FREJA eID – THE eID FOR E-COMMERCE
Few areas are subject to as fierce competition as e-commerce. The threshold for new players is relatively low with all the platforms and logistics services that are easily accessible to anyone with a good concept.
At the same time, foreign players with big financial muscles and strong brands are threatening to redraw the map in its foundation. Add GDPR and other regulations around, for example, KYC and online payments, and you are as close to the perfect storm as you can come. In that situation, it is simply not good enough to compete with outdated solutions around customer identification, login and signatures. Customers demand a smooth user experience, security and total transparency. The solution is a modern e-ID.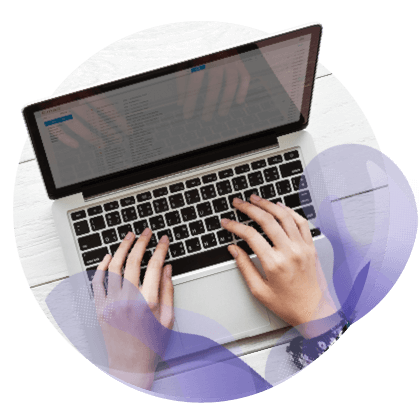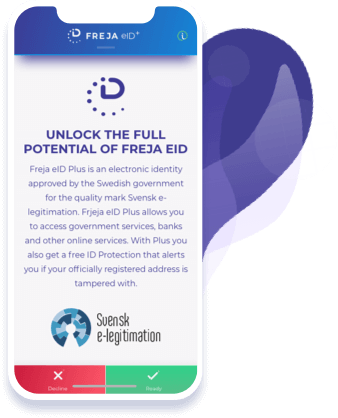 WHAT IS FREJA eID?
Freja eID is the next-generation mobile e-ID that gives back control of the digital life to the user. With Freja eID, users can identify themselves to log in, confirm purchases, make legally binding signatures and communicate securely in the digital world. Freja eID is available in three trust levels, of which the highest, Freja eID+, is approved for the governmental quality mark Swedish e-identification.
Back To Industries
WHY FREJA eID FOR E-COMMERCE?
SMOOTH CUSTOMER IDENTIFICATION
Forget passwords! Everyone else does. Nine out of ten users prefer to identify themselves via e-ID rather than loggging in with passwords.From the moment of registration until they log in for the first time, as many as 10% of your users have forgotten their password. With Freja eID, users log in with fingerprint or PIN via the app and you get two-factor authentication.
FAST AND SAFE ONBOARDING
Certainly, it's easy to populate user data from a third-party provider. But that makes way for fraud and does not take into account the user's right to privacy. Freja eID gives you the same agility, but with added security and the benefit of giving your users a sense of control.
ELIMINATE FRAUD
With a chain of secure identification when ordering, check-out and delivery – if you choose a carrier company that supports e-ID:s – the fraudster must be able to counterfeit the e-ID to succeed. In practice, it means that an e-commerce site that implements e-ID:s basically eliminates fraud.
INCREASE PROTECTION AGAINST HACKER ATTACKS
The passwords are the best friend of the hacker. They were created at a time when the internet didn't exist and with today's technology a password can be cracked in a matter of minutes. The big damage may not be what the hacker can do with your systems, it's rather your brand and your customers' trust that's being damaged the most.
SIMPLE CHECKOUT
Since the customer is securely identified with Freja eID, checkout is but a click away. In the app you can present exactly what is in the shopping cart and other terms you want to get signed. All the necessary information needed to identify or register the customer in your system is fed from the Freja eID database. One click is all that is needed to checkout.
THE KEY TO OMNICHANNEL
If you work on multiple channels, you have already realized the problems of having different identification methods for each channel. Freja eID works equally well online, over the phone or in a physical store.
GDPR AND OTHER COMPLIANCE
Freja eID allows you to handle all the consent of your services in order to be on the proper side of GDPR, but, above all, to let the users regain control of their privacy. With Freja eID, PSD2's rules for strong online payment authentication becomes yet another "tick in the box", as well as an e-ID approved by the government for the quality mark Svensk e-legitimation.
INTERNATIONAL SCALABILITY
Freja eID is an international scalable e-ID. The foundation of the solution isn't built around Swedish personal identification numbers (although this can of course be one of the user attributes), which means that you can have the same e-ID solution in all countries where you are operating.