FREJA eID AND OFFICE 365
Freja eID is integrated with cloud services like Office 365 and Azure from Microsoft. This enables you to easily increase your security with 2FA for logging in to these services, with any of the trust levels that is offered in Freja eID.
For your users this means:
Smooth login using PIN or biometrics
No more passwords
Can access more sensitive resources remotely
For you this means:
Eliminate limitations for remote workers with increased security
Lower helpdesk cost for password reset
The security of a government approved LOA3 identity
Watch the video to see how easy the user experience becomes when using Freja eID with Office 365.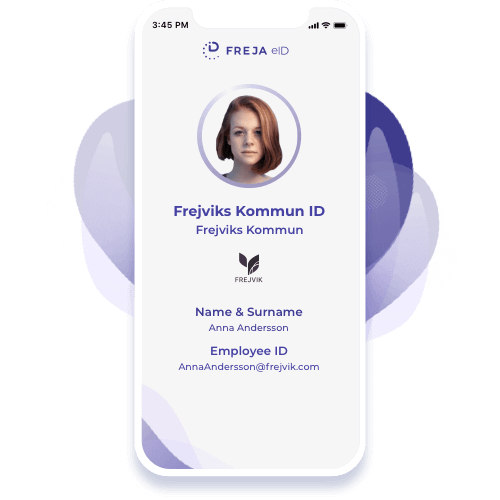 THE SMART WAY OF MANAGING ROLE BASED IDENTITIES
In Freja eID you can add an Organisation eID that is based on attributes connected to the user's role in your organisation. It can be used for employee identification, as a membership-ID, customer-ID or in other situations where you want to connect a specific attribute or identifier to a user.
TEMPORARY eID FOR SHARED DEVICES
If you use shared or pooled devices in your workplace you have probably realized the problem of how the users should identify themselves on that device. Freja eID has a solution to that problem.
If you enable this feature, users may temporarily add a device to their Organisation eID and use it for work-related purposes. The security and the trustlevel of the Organisation eID is transferred to the pooled device. The user can now identify to mobile apps and e-services on the web with a strong identity residing on the work phone.
Actions that users take on the temporary device can only be connected to their Organisation eID. In other words, they cannot use the temporary device for private purposes. When the work is done, the user logs out Freja eID from the pooled device, alternatively the eID is automatically terminated after 8 hours. For security reasons biometrics is disabled on shared devices, only the user´s PIN can be used for confirming actions in Freja eID.
We have a detailed guide on how to add a temporary organisation device here.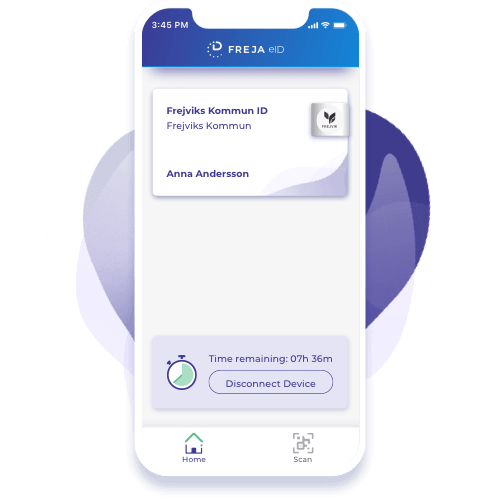 A CLOSER LOOK AT ORGANISATION eID
Organisation eID builds on the strong identities provided by Freja eID, meaning that we take care of the identity validation and the vetting process. So before issuing an Organisation eID, the user must first have a valid personal Freja eID – which is free of charge for users.
When you wish to assign an Organisation ID to a user, they will first approve it with their existing personal one. You define which set of attributes to add in your Organisation eID. This allows you to strongly identify a user without exposing any of their personal data in your transactions.
You as an organisation are in control of Organisation eID's life cycle, and when the user leaves your organisation you are in control of the de-provisioning. User onboarding and offboarding are managed via our Organisation eID REST API, allowing you great flexibility in connecting to your local AD, CRM etc.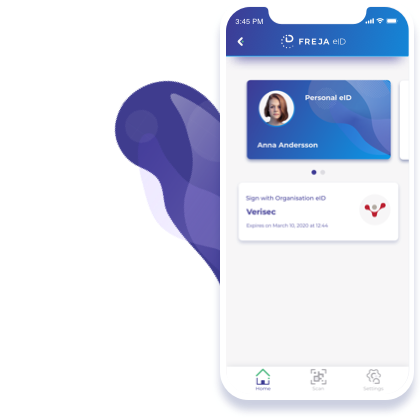 THE USER PERSPECTIVE
An eID is personal and some users – for good reasons – hesitate to use their personal eID in work-related situations or in other role-based tasks.
Organisation eID clearly separates the user's private life from their professional responsibilities or other roles. It resides within the same app and the user can easily swipe between their personal and their Organisation eIDs.
A user can have multiple organisation eIDs at the same time, one professional, one for a role in a sports association and one as a customer of a bank. However, user consent is required each time a new eID is issued.
THE LEVER FOR YOUR DIGITALIZATION
With Organisation eID you can strongly identify your users for all digital services they need to access and have a tool for legally binding electronic signatures. You can scale the usage without scaling the cost making this the most competitive solution on the market.
Role-based identities are currently based on smart cards, proprietary apps or – if you have low security requirements– usernames and passwords. Freja eID is the only solution that combines high level security, low cost and user friendliness.
The pricing model differs from identifying users with the personal Freja eID, which is tick-based. Organisation eID comes with unlimited use and the pricing is based on the number of users making it predictable and very scalable.
Organisation eID also gives you greater flexibility in terms of data processing compared to the personal Freja eID. You will have a Personal Data Processing Agreement with Freja eID allowing you to process data that is not allowed in transactions with the personal Freja eID. We also offer storing of transaction data on your behalf in Organisation eID as an added service.