AN ID PLATFORM FOR MORE VALUABLE INTERACTIONS
Freja eID allows you to interact with existing and new users with their secured identity being the starting point of your interaction. However, Freja is much more than just a certified electronic identity. We are an international platform for sharing data with the user's consent.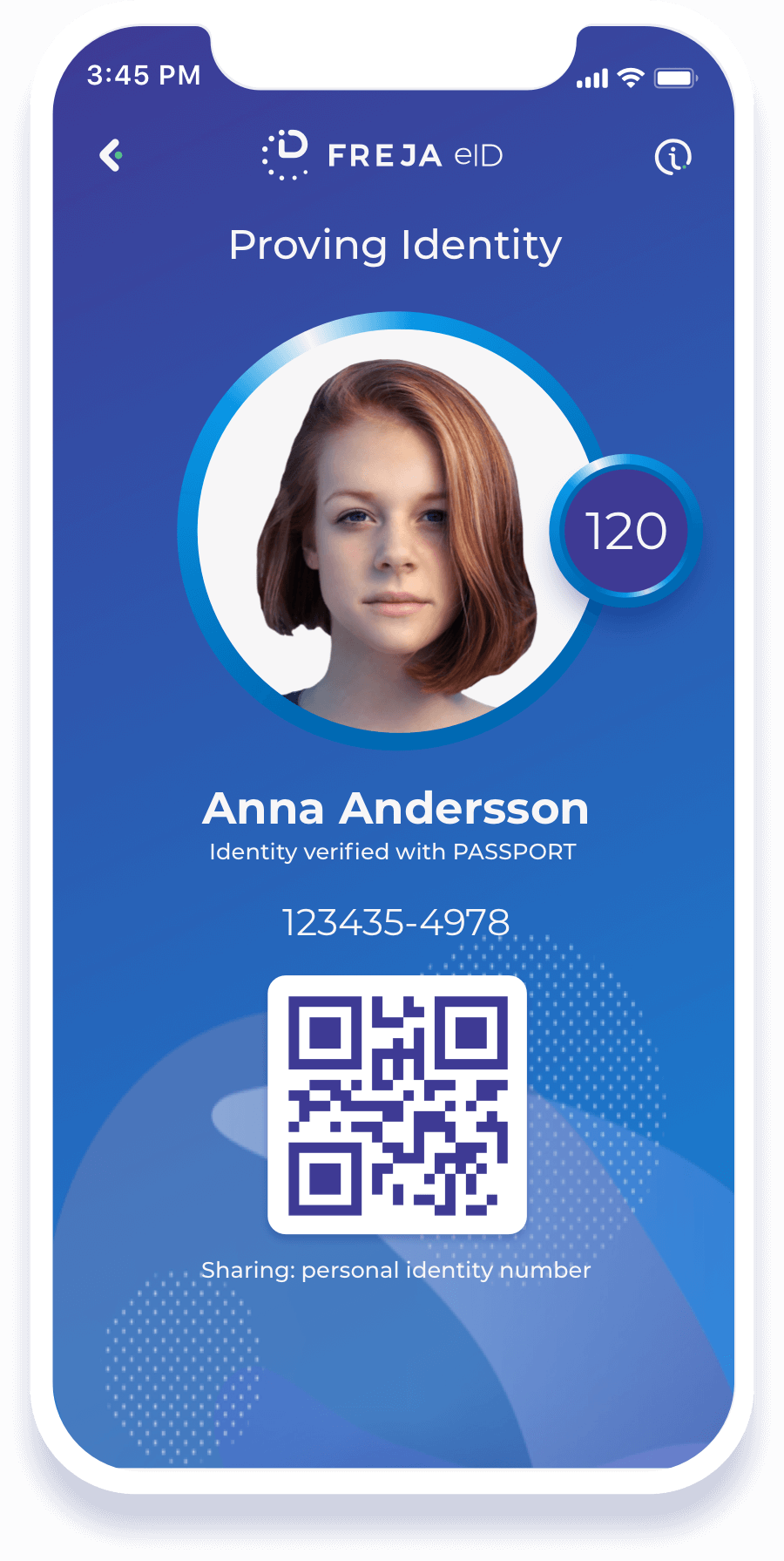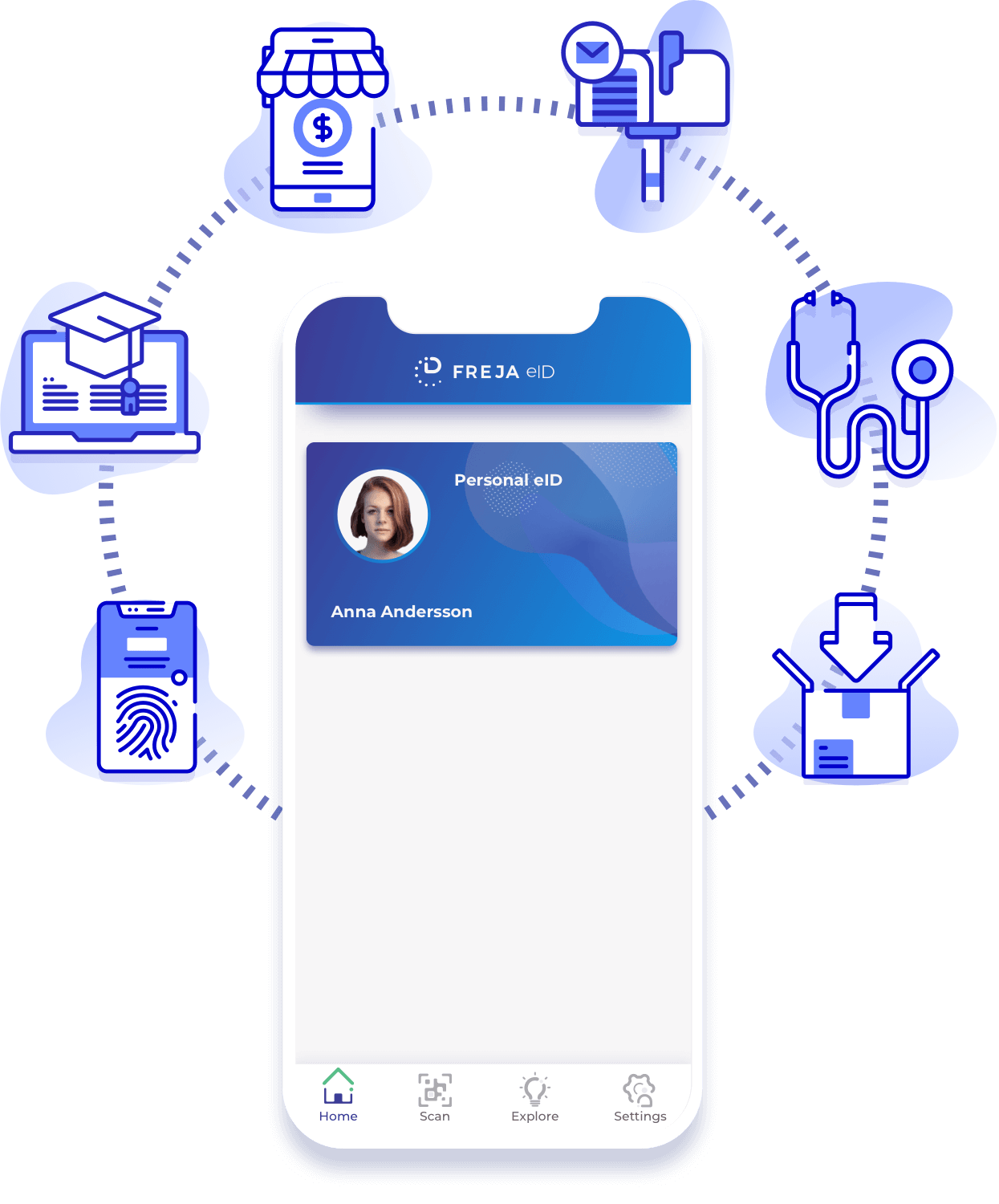 FROM SIGN-UP TO CHECKOUT AND EVERYTHING IN BETWEEN
Freja is an ID platform that gives the user control over their digital identity and data. Through the platform, the user can interact with companies, authorities and organisations both online and in the physical world. Some examples of what you can use Freja for are e-identification, 2FA, electronic signatures, sign-up, checkout and physical identification. The business models and processes that you could create in the digital world with the help of secure identities and user-shared data are nigh on limitless.
Freja can also be used in contexts within your own organisation, especially when it comes to role-based identities within an organisation – read more about Organisation eID here.
THE USER JOURNEY BEGINS WITH FREJA
Imagine a new user visiting your website decides to become your customer (or member, for example, depending in the services you offer), and all that they need to do to become one is to scan a Freja QR code displayed on your page. By doing so, their name, social security number, address, email, mobile phone number and other data you require for registration are sent to you – together with the user's legally binding signature of constent to their data being shared and your terms of use. This whole process would take only a few seconds. If this interaction took place on their mobile phone, they wouldn't even need to scan a QR code – the user would just tap on 'Continue with Freja' and everything would happen just as seamlessly.
Now think of the same scenario in a store. In this case, it is your staff using the cash register scanner to scan the QR code in the user's Freja app for physical identification and the same transaction could occur.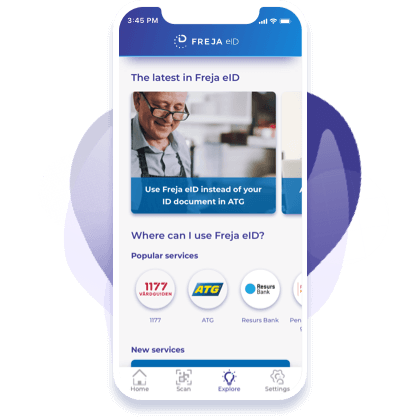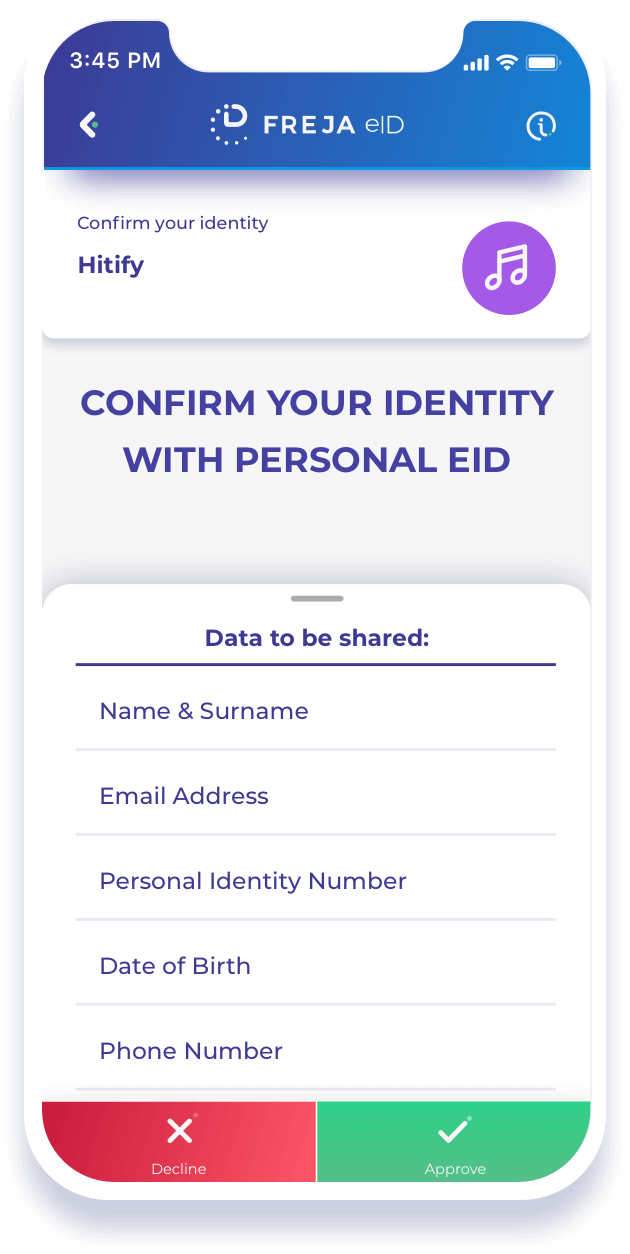 MORE TRUST, MORE INTERACTION AND MORE VALUE
Our user-friendly services coupled with the verified or secured identities that we at Freja guarantee, will open up new opportunities for you to interact with your users.
Using Freja for login to websites or apps instead of using passwords not only increases security but also lowers the thresholds for your services. In other words, the real benefit that you can reap is a frictionless experience for your users – two-factor authentication and Strong Customer Authentication (SCA) are a pure bonus.
Another great benefit comes once the user is in your service – whether it be private or public. Freja can be used for checkout and confirming a purchase, signing card payments according to the PSD2 rules, confirming contract terms, signing a building permit application or submitting a tax return. With a legally binding electronic signature, everything also becomes traceable – everything from legal documents to important GDPR consents.
EASY INTEGRATION
Using Freja is as easy for you as it is for your users. You can integrate with us through OpenID Connect, via our REST API or through Sweden Connect. Our Developers' Section contains more information about the technology, our documentation and our test environment. We are also integrated with all leading system integrators if you do not want to integrate directly with us.
For users, we are available on all platforms – AppStore, Google Play and Huawei App Gallery. The user's control panel, My Pages, is web-based and supports all browsers. At Freja, we place a great deal of importance to being an inclusive service and follow both international and national accessibility directives and conduct constant user tests so that all users – regardless of ability, age and experience – can be part of the digital world.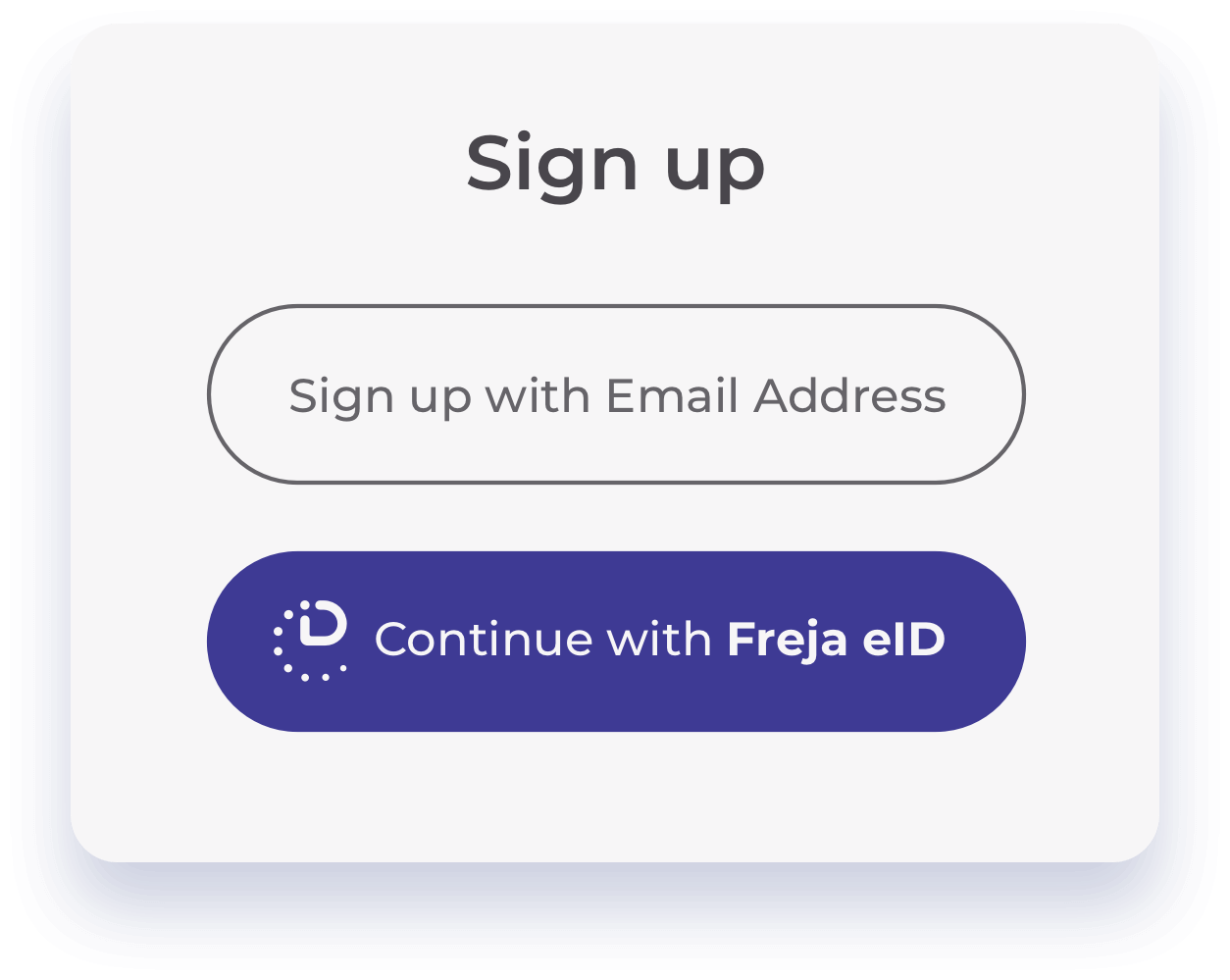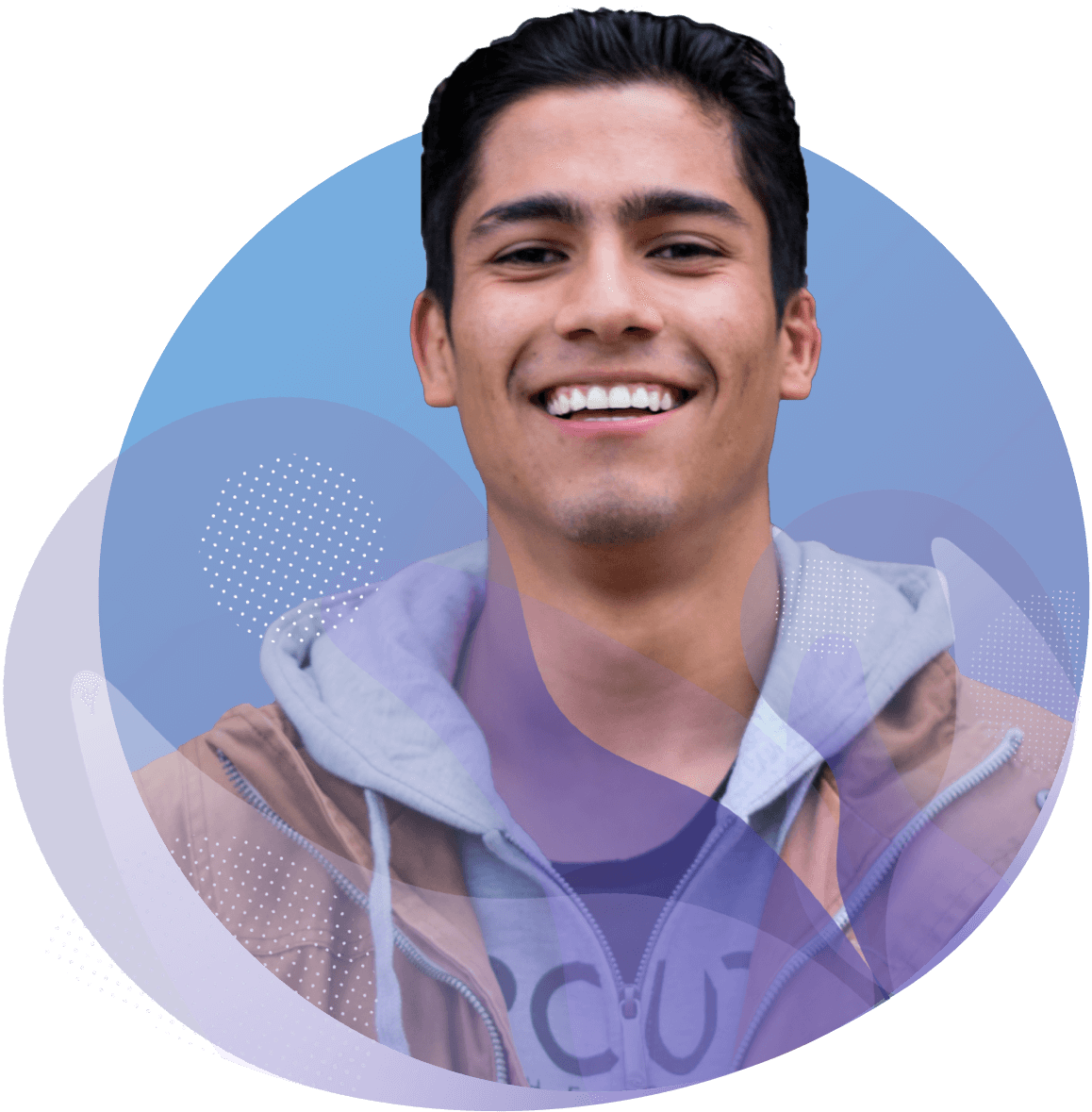 COMPLIANCE – AND A VALUABLE PROMISE
Freja eID is available in three different levels of trust, the highest of which, Freja eID Plus, has the state quality mark 'Svensk e-legitimation' from DIGG – the Swedish Agency for Digital Government. You decide which level of trust is right for you. A municipality may need LOA3 for certain users and certain e-services, while in other contexts a lower level of trust is sufficient.
For financial transactions, Freja means that you meet PSD2 requirements for Strong Customer Authentication (SCA), for example for card payments online.
The idea with Freja is that we make a secure basic identification of the user and all the data they provide. Our promise to you as a customer is that we are responsible for this validation and take financial responsibility if we do not