GIVE YOUR USERS THE TOOL TO MANAGE THEIR DIGITAL LIFE
With My Pages, users have full control over all the digital activities they conduct with Freja eID
Under Action History users can see all logins, transactions, signatures and other actions that they have approved or declined via their Freja eID. Each action is accounted for with date and time and the personal data that the service provider has taken part of to identify the user.
In the Services section users can enable and disable services connected to Freja eID. When a user has disabled a service it is impossible to access it until the user enables it again. This is a smooth way for the user to increase his or her security on the internet.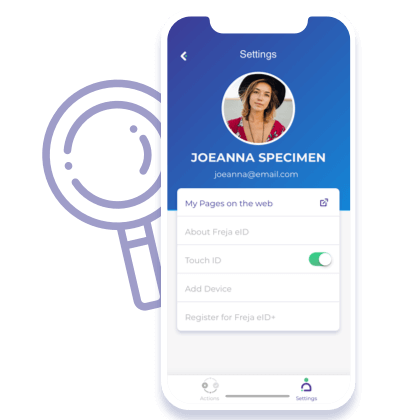 In line with GDPR and Freja eID:s philosophy granting users the control of their digital life, Freja eID is completely transparent regarding which personal data is stored. These are all accounted for under the section User Details.
Here users can also register and manage e-mail addresses and mobile numbers in their Freja eID. These serve as user names and contact points for security alerts and updates.
In My Pages users can also manage the mobile devices they have added to their Freja eID account.